Product Giveback
Each year, instead of giving to a specific charity, we support a designated cause through special, limited-time products or promotions. The money raised is donated to organisations that support the cause in Europe, North America, and the South Pacific. Contact your demonstrator to learn more about the cause we currently support.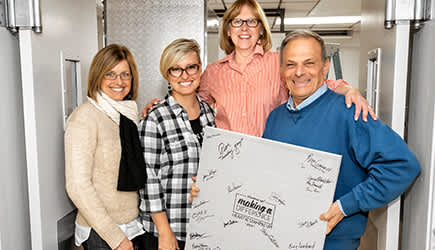 Heart of Stampin' Up!
To create lasting impact, we want to assist our demonstrators and employees in making a difference in their communities. Any demonstrator or employee can apply for a sponsorship to support a favourite cause. With a sponsorship from Stampin' Up!, recipients can maximise their efforts to help others.
---
Day of Service
During our annual Stampin' Up! Day of Service, all of our employees worldwide participate in service activities to help their local communities. We know we are stronger when we work together, so we encourage everyone— demonstrators and customers included—to find a way to serve in their community on this day.
Incentive Trip Service Project
Every year, Stampin' Up! rewards achieving demonstrators with a luxurious incentive trip.Along with entertainment and relaxation, every incentive trip includes a service project to support the local area.